What is Patient Online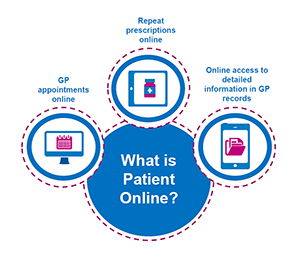 How to register
If you are an existing patient you can register online at www.patient.co.uk/access and book an appointment. The practice will activate your full online account when you come in for your appointment (you will need identification such as a passport or driving licence). Alternatively visit reception for the details you need to log in online.
Safe and secure
All data contained within Patient Access is protected using the highest standard internet security so you can be sure all your personal information is safe and secure.
The practice currently offers online access for:
1) Booking and Cancelling Appointments
Quick and easy to use
Avoid busy telephone lines
Access online out of practice hours
Electronic management of your appointments
2) Requesting Repeat Prescriptions
Access a list of your repeat medication and request a repeat prescription.
Minimise your trips to the practice – only one visit is needed to collect the prescription
Your request is authorised online by the practice, so you know when it's ready to collect
Avoid queues and busy telephone lines
3) Update your personal details
You can update your address and contact details online. Changes made through this service are then approved by practice staff.
4) Summary Care Record
View Allergies, Adverse Reactions and Medication
5) Access to GP Record
It is a contractual requirement for practices to enable patients to have online access to a more detailed version of their medical record (rather than the 'summary care record' version currently available online) . There are circumstances where a GP may believe it is not in the best interests of the patient to share all information in the record, for example where it could cause harm to their physical or mental health. GP medical records software will be configured to offer all coded data by default, but GPs will be provided with the tools to withhold coded information where they judge it to be in the patient's interests or where there is reference to a third party.Before access to your Detailed Coded Record is granted, your medical records will be fully checked by a clinician. It may therefore take 14 days from submitting your application for this access to be granted. If access is denied for one of the above reasons, we will inform you in writing and invite you in for further discussion if necessary.

The provision of sensitive personal data requires the practice to verify a patent's identity prior to the granting of access and we are currently planning the process to be used to ensure that this meets all relevant information governance and data protection guidelines
Patient Online Information Leaflet